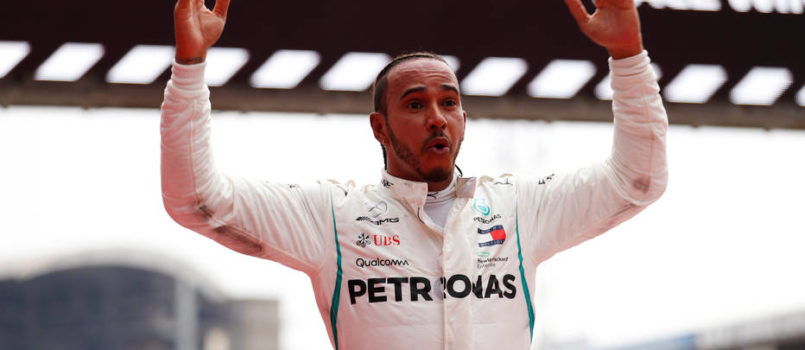 Lewis Hamilton secured an unlikely win in the Formula 1 German Grand Prix on Sunday, starting from 14th on the grid while title rival and pole-sitter Sebastian Vettel crashed out from the lead in mixed weather conditions.
Hamilton, who came into Germany trailing by eight points in the championship standings, left with an unlikely 17-point lead. The win was the 44th of Hamilton's F1 career and first from outside a top-six starting position.
Valtteri Bottas finished second to give Mercedes a 1-2 finish, and Ferarri's Kimi Räikkönen completed the podium in third.
Vettel had been in complete control of the Grand Prix, but when the first of several rain showers broke over the Hockenheim circuit, the whole complexion of not only the race but also the championship changed.
With Hamilton in fifth place and Vettel in the race lead, Vettel made a small mistake with big consequences: a small loss of grip as he attempted to enter the Sachs curve, which sent him into the gravel and then into the barriers.
Sitting fourth, Hamilton was promoted to the lead of the race when the safety car was deployed to recover Vettel's Ferrari, with Max Verstappen, Bottas and Räikkönen all pitting for new ultra-soft tires.
As green-flag racing resumed with just 10 laps to go, Hamilton became the hunted, with Bottas posing an immediate threat as the Finn hunted for a first race win of the season. Failing to make the move on lap 1 of the restart, Mercedes instructed both drivers to minimize the risk and it was formation flying from the two Silver Arrows to the checkered flag from that moment.
"I did (believe I could win the race from 14th)", said Hamilton. "It's obviously very, very difficult from that position and highly unlikely, but you've always got to believe. I said a long, long prayer before the race started. When we did the parade lap I could see how much support I had out there and I just wanted to stay collected, stay calm but the team did such a great job, the car was fantastic today and I want to say I'm so grateful.
"I would never have thought they could do something like that today but I kept pushing, I kept believing and it happened, so I really manifested my dream today, so big, big thanks to God."
Hamilton faced a real possibility that he could drop more than a race win behind Vettel in the standings had things not gone his way on Sunday.
"I hadn't really thought about that (retaking the championship lead)," said Hamilton. "It was so tough out there. Conditions were perfect, conditions were perfect for business time, so when it rained, I knew that I would have a good position, but then you never knew what was going to happen after the safety car.
"The other guys behind had new tires on, but as I said, I'm just so grateful for the hard work the team have done and hopefully this solidifies their belief in me and my drive solidifies my belief in them and for those who don't know me, now you do."
For Vettel, the elation of taking pole on Saturday turned to agony on Sunday.
"I was in the barrier and realized that I don't get out from there so how do you process that?" said Vettel. "I don't think it was a huge mistake. It had a huge impact on the race because we retired there, but it's not like tonight I'll have difficulties to fall asleep because of what I've done wrong. I think it's disappointing because everything to that point was sweet, but we didn't need the rain."
Despite the setback with just one race remaining before the traditional summer break, Vettel remained confident that the championship fight is still wide open.
"We have a strong car, so I think we can be as confident as normal, more than anybody else," said Vettel. "It was a very positive weekend and it was just one of those moments. It was my mistake, so apologies to the team. Thy did everything right and I had it in my hands. Small mistake, big disappointment."
As usually happens in mixed conditions, the midfield order looked a bit different from how you would normally imagine.
Brendon Hartley scored just his second championship point for Toro Rosso, his first since the Azerbaijan Grand Prix back in April. Marcus Ericsson scored points for the third time this season. While Ericsson's season haul of five points may not seem headline-worthy, given the Swede had a streak of 50 Grands Prix without a point between the 2015 Italian Grand Prix and the 2018 Bahrain Grand Prix, recent results are a definite step in the right direction for the Sauber driver.