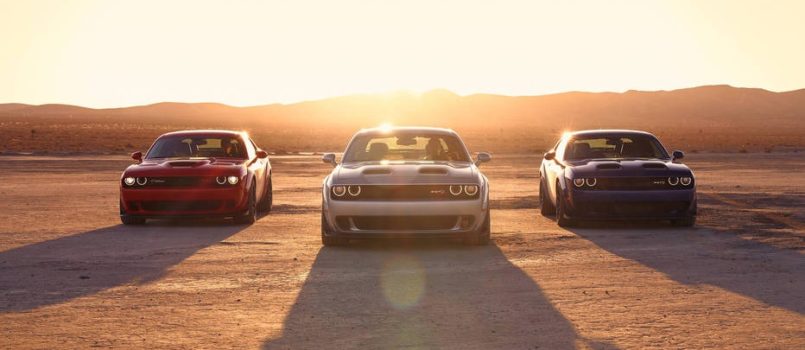 Dodge has gone insane, and we mean that in the best way possible. While the car market has withered, the Charger and Challenger have thrived. In the past 10 years, sales are up 70 percent. It's starting to seem like the money guys at FCA have given the SRT boys carte blanche to do whatever their collective 16-year-old brains want.
For starters, you'll be able to get a 797-hp Hellcat called the Redeye using a slightly detuned version of the Demon 6.2-liter supercharged V8. It will get a Widebody version (3.5 inches wider overall, 20×11-inch wheels), as will the R/T Scat Pack. The "regular" Hellcat gets a slight bump to 717 hp, because why not, and both Hellcats now get a new dual snorkel hood. The old Hellcat hood comes on the SRT and R/Ts.
To make nearly 800 hp, or 840 in the Demon, the 6.2-liter V8 in the Redeye gets a bigger supercharger than the Hellcat's, from 2.4 to 2.7 liters, more boost and a higher engine redline. It has two dual-stage fuel pumps, as opposed to the Hellcat's one, and a larger airbox.
Now, in a physics-proving bit of statistics, the extra 80 hp in the Redeye gets you just one-tenth in the quarter-mile, 10.8 to 10.9 seconds, and 8 more mph (203 mph to 195).
Read more: http://autoweek.com/article/car-news/2019-dodge-challenger-srt-hellcat-redeye-daily-driver-demon#ixzz5JmjT0tWS
by Eric Kulisch, Automotive News
– The National Highway Traffic Safety Administration is
reviewing noncollision fires in Kia and Hyundai vehicles as
part of two ongoing investigations related to engine
failures.The probe, confirmed …
This content is created from http://autoweek.com/ with Octolooks Scrapes